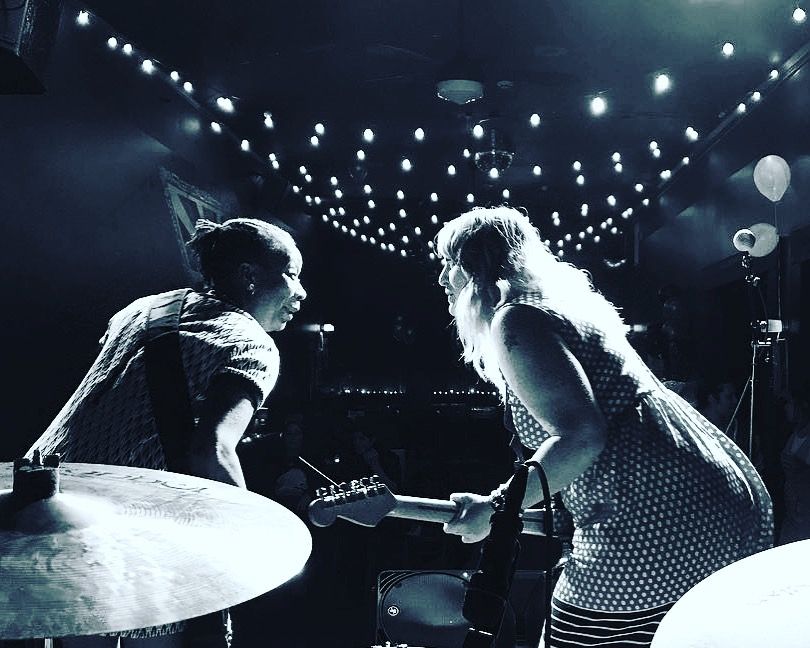 Easy Queen is three fierce, feminist, funny females forging fabulously funky rock.
For real.
The Oakland, CA-based trio reflects the Bay Area's energy, diversity, queer community, and creativity. Fans of Sleater-Kinney, St. Vincent, Portishead, and Juliana Hatfield will love Easy Queen's blend of grunge-y hooks, shoegaze-y guitar delay, and pop-y vocal harmonies.  EQ's distinctive songs reflect a blend of sad-bastard songs, sultry guitar solos, playing in the pocket, and gettin' outta town. On the dusty road between PJ Harvey and Portishead, you'll find Easy Queen singing in harmony, grooving hard, and making love to their audience.
Guitarist/vocalist/songwriter Audrey Howard was long a fangirl of bassist Veronica Savage (who wore her own basketball uniform with "Savage" on the back when playing with seminal all-female S.F. rock band Dolorata) so she was stoked when Veronica agreed to start a new rock trio together.  Drummer Genesis Fermin was known for her funky in-the-pocket grooves in the band "Color TV" – along with her soaring vocal harmonies she was a natural fit for the group. The band lists influences as wide-ranging as Sonic Youth, The Breeders, White Stripes, Pedro the Lion, John Cage, Neil Young, Jeff Buckley, Van Halen, Led Zeppelin, Tricky, and TW Walsh.
Easy Queen has built a steady following in the Bay Area, playing venues such as the Dyke March Stage, Ashkenaz, Ivy Room, and El Rio.  The band created a much-loved video performance of their new song "This Not That" for the NPR Tiny Desk Contest – featuring bassist Veronica delivering a fierce spoken-word performance over Audrey's Blondie-esque guitar riffs and Genesis' tight drum beat.  
The band dropped their debut EP, recorded with the aid of producer Stephen Hart (Santana, David Bowie) in July 2019, in concert with a Pacific Northwest Tour.  Easy Queen teamed up with local rocker Katie Cash to play a series of shows from Oakland to Portland to Seattle.
Experience the magical, sensual, infectious rock-n-roll of Easy Queen!